THE UNIQUE FACIAL TREATMENT PLATFORM TO ACHIEVE YOUNG, FRESH AND NATURAL SKIN. IT IS THE ONLY DEVICE ON THE MARKET THAT OFFERS A UNIQUE COMBINATION OF ADVANCED TECHNOLOGIES, TRIPOLLAR RF, OXYGENEO AND ULTRASOUND, WHICH WORK BOTH OUTSIDE AND INSIDE THE SKIN.
By adopting technologies established by medicine in the aesthetic clinic, Geneo offers its users the opportunity effective treatments through the promotion of natural skin rejuvenation processes. The power of natural oxygenation, complemented by Tripollar RF's anti-aging effect, both enhanced by ultrasound, offers estheticians the valuable benefits of immediately visible skin enhancement and long-term rejuvenating effects for their clients.
The unique treatment protocol is based on the innovative OxyPod capsule, which combines beneficial active ingredients along with exfoliating and oxygenating elements. By using OxyPod, the user prepares the skin for treatment and infuses the active ingredients in a single action, ensuring a safe and highly effective result.
Geneo treatments can be offered to a wide variety of skin types, ages and needs, making it a perfect solution for ongoing skin maintenance, for targeted treatment of specific skin conditions, and for the maintenance and improving the skin after a surgical procedure.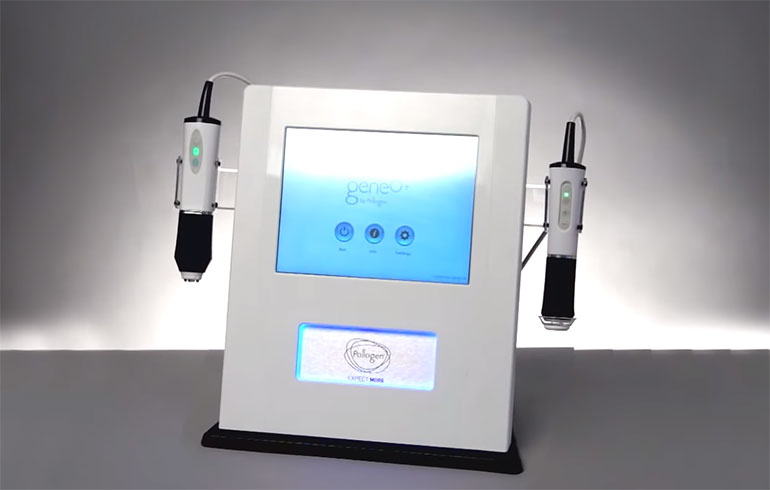 CLINICAL STUDIES
Results indicated that the combination of the three-in-one OxyGeneo exfoliation, infusion and oxygenation treatment using TriPolar radio frequency resulted in an improvement in skin texture and tone. This is an optimal procedure that can be implemented in patients seeking non-invasive, safe and effective rejuvenation treatments without associated post-procedure downtime.

ALLOW YOUR SKIN TO BREATHE FROM THE INSIDE
OxyGeneo technology provides a unique approach to facial treatments. Induces natural physiological processes to increase oxygen levels in the skin and achieve exceptional results. Unlike other technologies, oxygeneo uses natural oxygen from within, resulting in an effective treatment and immediate results.

American Academy of Dermatology
Cirugía Plástica Estética Reconstructiva
Asociación Mexicana de Cirugía Plástica, Estética y Reconstructiva
Consejo Mexicano de Cirugía Plástica Estética Reconstructiva
Academia Mexicana de Dermatología
International Society of Aesthetic Plastic Surgery
Crisalix - Virtual Aesthetics
International Society of Hair Restoration Surgery
Colegio de Cirujanos Plásticos Estéticos y Reconstructivos de Nuevo León